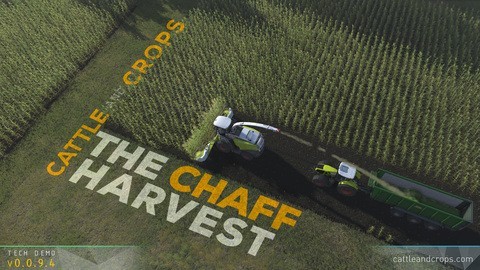 Today we present you the seasonable corn chopping update. There is a new quest and more machines (Claas Jaguar 960, Claas Axion 940, Hawe SLW 50T).
Regarding the fill planes in the trailer we can say that we could implement half of "Move that mountain." The system is based on the voxel technology which enables dynamic filling and the realistic creation of heaps. Nonetheless, there is still a lot of work to be done to make the process of loading and unloading even more realistic and to further improve the performance.
The silo for storage is located behind the farmyard. We have implemented a simple heap version there at the moment, a pile that grows out of the ground, according to the fill level. The voxel technology will also be deployed there later.
We had to rework the basics of the AI, which took up a lot of time. The sections headland, turning maneuver, chopping and transport also belong in this area. For the beginning it is possible to operate the harvester and in the quest the AI takes care of the transport.
The new graphics options for shadows and FOV (Field of View) improve the performance and give you more individual means to ideally adjust Cattle and Crops to your system.
We have also revised the system for the bending and snapping of plants. This becomes noticeable in the destruction of fruit as well as in the interaction of chopper and plant.
For more improvements (e.g. in the modding section), fixed bugs and other changes, please take a look at our changelog.
The next update will introduce animals and feeding in Cattle and Crops. Following this we will implement more bug fixes and improvements to then start the official Early Access phase. CnC will then also be available via Steam. Further steps will be the optimization of work processes, new machines and crop variety.
We hope you have fun testing and look forward to your feedback!
Changelog:
NEW: Tractor Claas Axion 940
NEW: Trailer Hawe SLW 50T
NEW: Forage harvester Claas Jaguar 960 + corn header Orbis 900
NEW: Silage heap behind the farmyard
NEW: Mod support has been reworked: Mods are saved in Documents/My Games/Cattle and Crops/Mods and can now be changed in the editor
NEW: Dynamic engine-based fill objects: voxel technology makes filling dynamic and the creation of heaps more realistic
NEW: Sidebar buttons for the Jaguar: special user actions for calling/dismissing a chaser trailer
NEW: Slider "Steering sensitivity" in the control settings which adjusts, how fast the steering is supposed to go back to its normal state
NEW: Graphics option "Shadow": Shadow values can now be adjusted in stages (Off, Low, Medium, High, Ultra)
NEW: Gameplay option field of view "FOV": Adjustability of the width for the ego perspective, cockpit perspective and outside of machines
NEW: Plants snap or bend realistically when colliding with machines and are being bent correctly when pulled into the cutting unit
NEW: When starting a mission the popup "Creating mission content" is being shown before the mission is loaded
NEW: Harvester and trailer coordinate to make filling as optimal as possible. The harvesters pipe homes in on the chasers position and unloads in the according direction
NEW: The Harvest can be unloaded in the new silo behind the farmyard
NEW: Slider for user actions can be deactivated in the editor settings
NEW: Script editor method for the rotation of widgets with nine possible pivots
NEW: TankLoad & TankUnload controller regulate the filling and unloading of a tank. AI reacts when tank is full and drives off
BUG FIX: On-board displays now show the time in a correct format
BUG FIX: Improved vehicle spawn for machines with smaller collision shapes (e.g. Hammer CornKing)
BUG FIX: Light states are now transferred immediately to the implement when it is attached
BUG FIX: No crash when a new map is being started while a mission is still running
BUG FIX: The sky doesn't flicker at night any longer
CHANGE: The growth logic has been adjusted so that the stage of growth is now being calculated per plant type and not for the entire field
CHANGE: Steering axle and forced steering for attachments are now dependent on velocity. For some vehicles the steering is being deactivated when driving faster than 20 kph or reversing
CHANGE: Mission condition "fruit": when the stage of growth is being defined, the progress is only shown on that account and not for the plant type
CHANGE: Steering wheels now have a normalized steering value (-1.0 to +1.0)
CHANGE: Headlights have been reworked and now have more realistic textures and colors