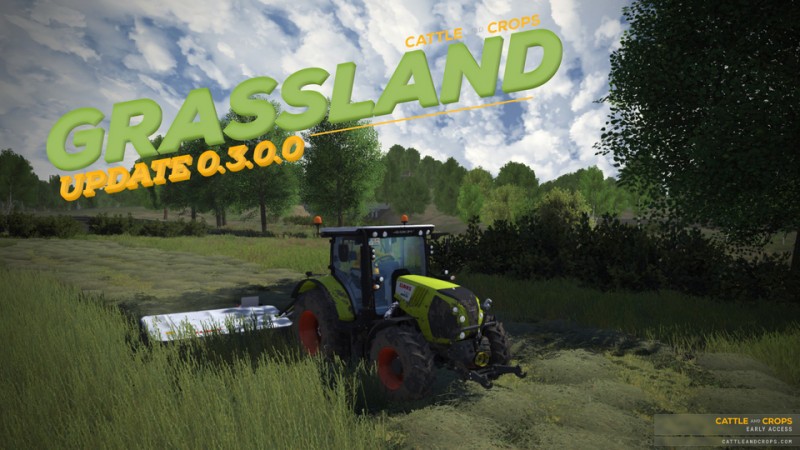 The Grassland Update v0.3.0.0 is now available for download. This update brings the grassland cycle to Cattle and Crops.
Drying
The weather will affect the swath's drying process. In dry weather, the wetness in the swath decreases; when raining it increases greatly. The grass needs good weather for it to become hay. During drying the grass will go through different stages depending on it's wetness, grass (over 70%), silage (70% – 40%) and hay (below 40%). After four hours of rain, the swath reaches 100% wetness and can't get any more wet. To dry completely, the hay needs about three days without any rain.
Volume
Windrows are based on realistic volumes and thus will have varying heights. Checking your speed when balind ist now more important so your pickup won't get clogged up. Wetness and volume will also affect the particle systems' visuals.
Calendar
You can find the perfect time for cutting and harvesting the grass by checking the calendar in the Planning Menu. Clouds are symbolized as grey, with LC (low cloudiness) and HC (heavy clouds) showing you the cloudiness. To everyone's surprise, a big yellow dot means sun, while dark grey gives you rain. The forecast is valid for two weeks.
Three-point hitch
One would assume that bringing a tedder and a rake into the game would be easier than the previous machines. Making them behave as realistic as possible, we had to extend the three-point hitch system a lot. Thus, for example, trailing machines like the Volto 80 or Liner 500 are now possible as well. In addition, the three-point hitch won't push the tractor away from the ground as often as it did before. We have also minimised the lateral forces when pulling a plow.
Modding
The .pak file format has been replaced with more user-friendly .zips. Additionally, we've added a ton of joint options that currently come to fruition in the Claas Volto and Liner machines. Furthermore, we've opened up the translation and XML files – so if you're in the business of adding your local language, you're in luck.
Mission
There's a new story quest in which you can try out the grassland process. The mission is not a requirement and can be skipped.
With grassland, in addition to grain and corn, we have reached another milestone on the way towards v1. This is our biggest and most comprehensive update so far, so we decided to split up it into two updates. The bigger part of grassland is included in this update – in the second part we'll add the loader wagon and the mowing unit for forage harvesters and continue to balance the update. After the second part is out we'll focus on bug fixing until Christmas. The timeline will be adjusted accordingly.
And don't forget, it's Steam Autumn Sale! Until November 27th, 7pm CET there is a 50% discount on Cattle and Crops for all supporters (upgrades) and those who want to become one!
Website | Steam
As always, changes, bug fixes and new features can be found in the changelog.
We are looking forward to your feedback! If you like CNC, leave a positive review on Steam!
The MBB Team
Changelog
NEW Field grass seeds can be bought at the trader in the Albergtal map
NEW The first upgrades from the Tombstone Engine, the successor of the C4 Engine, are implemented in the update. The new ring detail system optimizes the visibility tests immensely, for example, taking the load off the CPU as well as the video cards. In addition, all distant objects are faded in and out smoothly (with exception of the trees, we'll have to tackle them in a future update).
NEW The fading of the plants on the ground has been enhanced strongly: plants don't just pop up any longer but are being faded in with a smooth transition. The computation for this runs in the background so that the feature also has a positive impact on the performance
NEW The culling of the plants around the player has been enhanced by multicore support. This makes for a more stable framerate when the camera is being moved fast continuously
NEW The pak. files have been replaced by .zip files, so mod creators can have easier access to all the assets
NEW The source language files for German and English have been added to the import directory
NEW Cruise control has been improved: the three speed stages can be set individually and are savegame compatible. "+" and "-" are freely allocable keys in the options menu. Braking deactivates cruise control, accelerating has no effect
NEW The overall physics have been altered heavily for the grassland machines, in order to be able to bring them into the game. The vehicles can now consist of much more single rigid bodies
NEW The new console command debugJoints displays the vehicles' joints
NEW Claas Liner 500 rake
NEW Claas Volto 80 tedder
NEW Claas Disco 2750 mowing unit
NEW Swath drying through weather influence and machines, with parameters like surface and lower wetness
NEW Swath is now being varied in height, depending on its volume
NEW Fill tanks can now have multiple fill types. A baler can now collect straw from different crop varieties
NEW Plants near vehicles can now be spread along Bézier curves
NEW The console has been reworked – open/close: SHIFT+ESC; it's half the window size by default now; log messages are being displayed; a bigger font can be set; Size and position of the messages can be freely selected; CTRL+T: passive mode and transparent console background
NEW There are new console commands:
listPlayerAttributes shows the player's current position
listFruitAttributes shows all of the fruit parameters per quarter of a square meter
listGroundAttributes shows all of the ground parameters per square meter
listMachinesStates shows the machine states like "raised" or "attached"
Enter list and press Tab to list all of the related commands
NEW 6DOF joints have about 40 new parameters
NEW You can now buy machines next to the player character's position
NEW Using ALT + TAB to switch to another window doesn't switch the player's machine anymore
NEW The Tucano can now place chopped straw on the field
BUG FIX Several save game problems have been fixed
BUG FIX The weather system has been adjusted, there is less bad weather now
BUG FIX The hose animations of Stapel and Dammann when being filled have been fixed
BUG FIX Plants that are outside of fields are now being replaced by grass
BUG FIX Linux specific AI bugs have been fixed
BUG FIX Unfrozen bales don't move any longer when they are on a parked trailer
BUG FIX The dirt texture on newly spawned vehicles is working again. The "Dirt" (dirt 0-1) command can be used via the console again.
BUG FIX The game shouldn't crash any longer when you're selling a vehicle in the vehicle fleet overview
BUG FIX The calculation of the suspension when unloading the Joskin is now executed correctly
BUG FIX The Wago's wheels should now remain on the vehicle when it is being spawned
BUG FIX Crops should now grow normally in all versions
BUG FIX Chasers now don't freeze any longer before the BGA's entrance
BUG FIX The controls are not reversed when "Gear must be changed for reversing" in set in the options anymore. The bug also doesn't appear any longer when cruise control is activated in reverse gear
BUG FIX Crops don't appear outside of fields
CHANGE Fruit parameters have been changed and new ones were added
CHANGE The indoor Arion sounds are played correctly now
CHANGE Changes have been made for assets with wrong shaders, this entailed framedrops
CHANGE The three-point hitch and attaching methods are currently being fundamentally reworked
Authors:
Cattle and crops