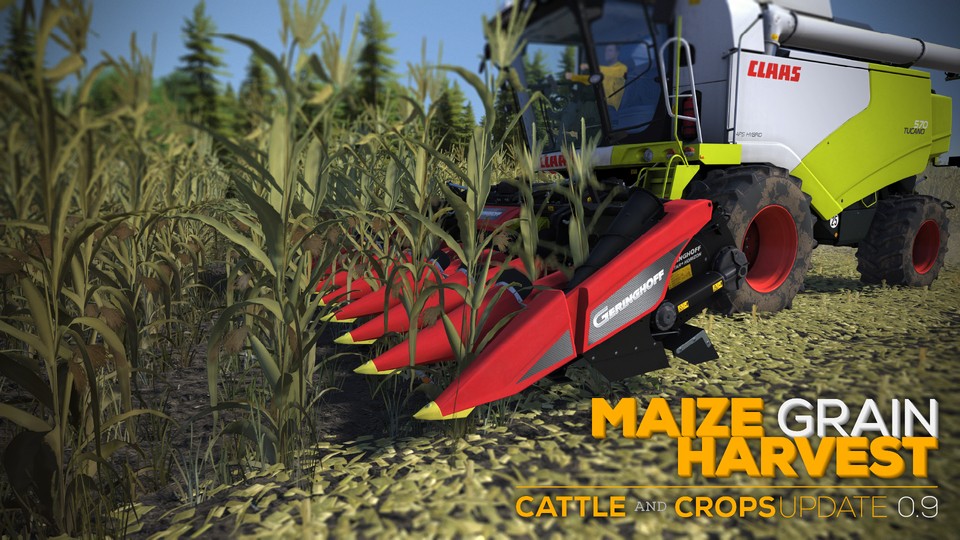 With this update we're very excited to introduce our newest industry partner! The new header Mais Star* Horizon 800 FB by Geringhoff enables you to harvest maize grain with the Claas Tucano combine. During this type of harvest, the corn cob is completely separated from the plant and the kernels stored in the bunker; the rest of the plant is chopped up and left on the field. You can sell the harvested kernels at the harbor. We've added an introductory mission that's available immediately.
Sliding vehicles Up until now, the vehicle wheels blocked too early during the braking process and it looked as if the machines would slip even at low speeds. We have adjusted the braking behavior and the handbrake for all machines: now the wheels decelerate not only visually but also physically slowly with the vehicle speed.
All other new items, bug fixes and changes can be found in the change log.
We wish you all a Merry Christmas and a Happy New Year! We're going to be back on January 13.
Note to the modders We have adjusted the fixed implement attachers (front loader, front loader tool, combine cutter, forage harvester cutter). Implements are now aligned to the attacher node so that the reference and attacher nodes have the same position and orientation. Existing mods may need to be adjusted.
NEW
Manufacturer Geringhoff, with 6m corn header Mais Star* Horizon 800 FB
NEW
Fruit type maize grain
Attention: maize swath can't be tedded/windrowed/collected
NEW
Mission Maize Grain Harvest
NEW
Setting "Physics Realism" changed to 2 options
NEW
Cutting Controller: script method HasFillPackageOnPath. Returns whether there is a fruit somewhere on a connected path
NEW
GFX Vegetation Render Density is taken into account when displaying plants on the cutting controller paths
NEW
Cutting Controller can now send swath to two different Swath controllers (with different ratios)
NEW
The fertilizer type can now be specified for fertilizing tasks
NEW
Script methods GetLightState, SetLightState on the Implement Proxy
NEW
Script method CreateInstance: loads an instance dynamically
NEW
Console command "factionReputation"
Without arguments: lists reputation with the respective factions
factionReputation : sets reputation
Example: factionReputation harb 50
BUG FIX
Save game load: unspawned animals will now be moved back into the barns
BUG FIX
Bugs in the AI pathfinding were fixed – especially when path angles were exactly 0 or 2*pi, which triggered a bug in the math library
BUG FIX
Optimized navigation paths at the harbor and farm. AI should no longer get stuck at those locations
BUG FIX
Bogey trailers no longer have asymmetric attachment angles
BUG FIX
Joskin Delta-Cap unloading textures show correct fill type again
BUG FIX
Tank transfer continues even if the transfer window is hidden
BUG FIX
Fertilizer implements automatically buy fertilizer when controlled by AI
BUG FIX
Get…/Set…/HasParentMachineState now also works if the parent is a vehicle (previously only on implement parents)
BUG FIX
Shader SSAO bug fix for environment objects
BUG FIX
Engine raycasts replaced by PhysX sweep tests and machine spawn improved on sloping surfaces
BUG FIX
Particle systems referenced by "ParticleType" are no longer re-initialized constantly, but only when changed
BUG FIX
Cowshed: no animals in barns 0, 2, 4, 8 fixed
BUG FIX
Hammer CornKing: fertilizing is activated automatically when controlled by the AI
BUG FIX
Hammer Corn Seeder Unit: ridge marker side change is working again (both manually and via AI)
BUG FIX
The Rauch Axis will be switched off after an AI task has been completed
BUG FIX
Dammann Land Cruiser folds in/moves up the frame correctly again at the end of an AI task
BUG FIX
Claas Quadrant clog mesh is displayed again
BUG FIX
Harvest task progress is calculated correctly again
BUG FIX
The position of the barn exit is correctly recognized and displayed in tasks again
BUG FIX
Animal transport task with loading/unloading in the barn uses the correct transfer point again
CHANGE
Continued work on Tombstone 2.9.1 integration (many only internal changes)
CHANGE
Retail overlay with CNC version removed
CHANGE
Brake and handbrake values adjusted so that the vehicles no longer slip during braking (wheels lock)
CHANGE
Attacher angle (tow pin hitch and tow ball hitch): angles increased for MB Tracs, Claas Jaguar and Arion
CHANGE
Tow ball attacher added to Claas Jaguar and MB Trac 1000 (not visually)
CHANGE
The following vehicles have received more accurate dirt texture masks:
Bressel und Lade silage bucket S; S L; S XL
Claas FL 100
Claas cutterbar trailer 521
CHANGE
Strautmann Giga-Vitesse no longer supports the loading of threshed fruit or fertilizer, but only chaff, swath and feed
CHANGE
Reaching positions in self-created tasks now has a 30m tolerance
CHANGE
Environment objects at the farm and harbor optimized in order to reduce AI collisions
CHANGE
Attachable > Attachers have been revised (front loader, front loader tool, combine cutter, forage harvester cutter). Implements are now aligned to the attacher node so that the reference and attacher nodes have the same position and orientation. Existing mods may need to be adjusted.
Authors:
cattle and crops