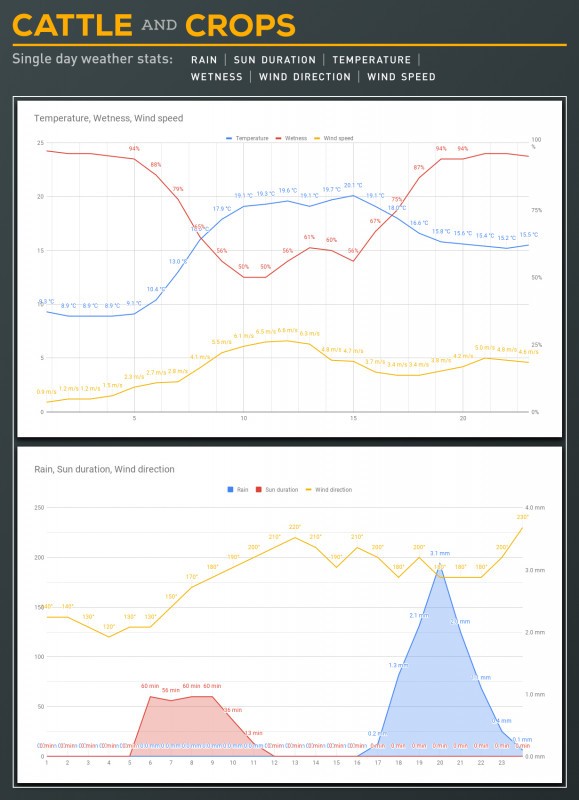 As you all know well from last year, the weather has a major influence on plant growth. Due to prolonged drought, the fruit grows very poorly or not at all, or dies in the worst case. At the same time rain can have a negative effect. The weather is therefore one of the great challenges in agriculture.
Up until now, we have calculated a simple daily average from historical weather data, but this was more difficult than expected to implement and led to undesirable side effects, such as too much fog or permanent turbidity. We are currently converting our system to real hourly data so that the weather can be mapped more accurately – and realistically.
Thanks to access to a large pool of historical data from the last decades we can show a very real weather development over the entire year. In particular, we can use the weather of a station that geographically matches the map's location. In the beginning we will implement the weather data of a specific year, later there will be several variations.
The image shows a daily analysis of the weather data – in this case a varied June day. While the morning brings a few sunny hours it gets more windy and cloudy at noon. From early evening until midnight it rains continuously.
Note: the charts shown are data visualizations in Excel. The ingame representation will differentiate.
The individual elements such as sun duration, precipitation and wind will be an important basis for plant growth in the game and will accordingly also have effects – both positive and negative. Therefore, it will be essential in the future not only to base your planning on machine and staff availability, but also to take weather forecasts into account.
Another advantage of actual weather data is that it's not our fault if the weather doesn't play along when you're playing.
Our Community Manager is on vacation from Monday and will be back for you from 03 June.
Authors:
Cattle and crops