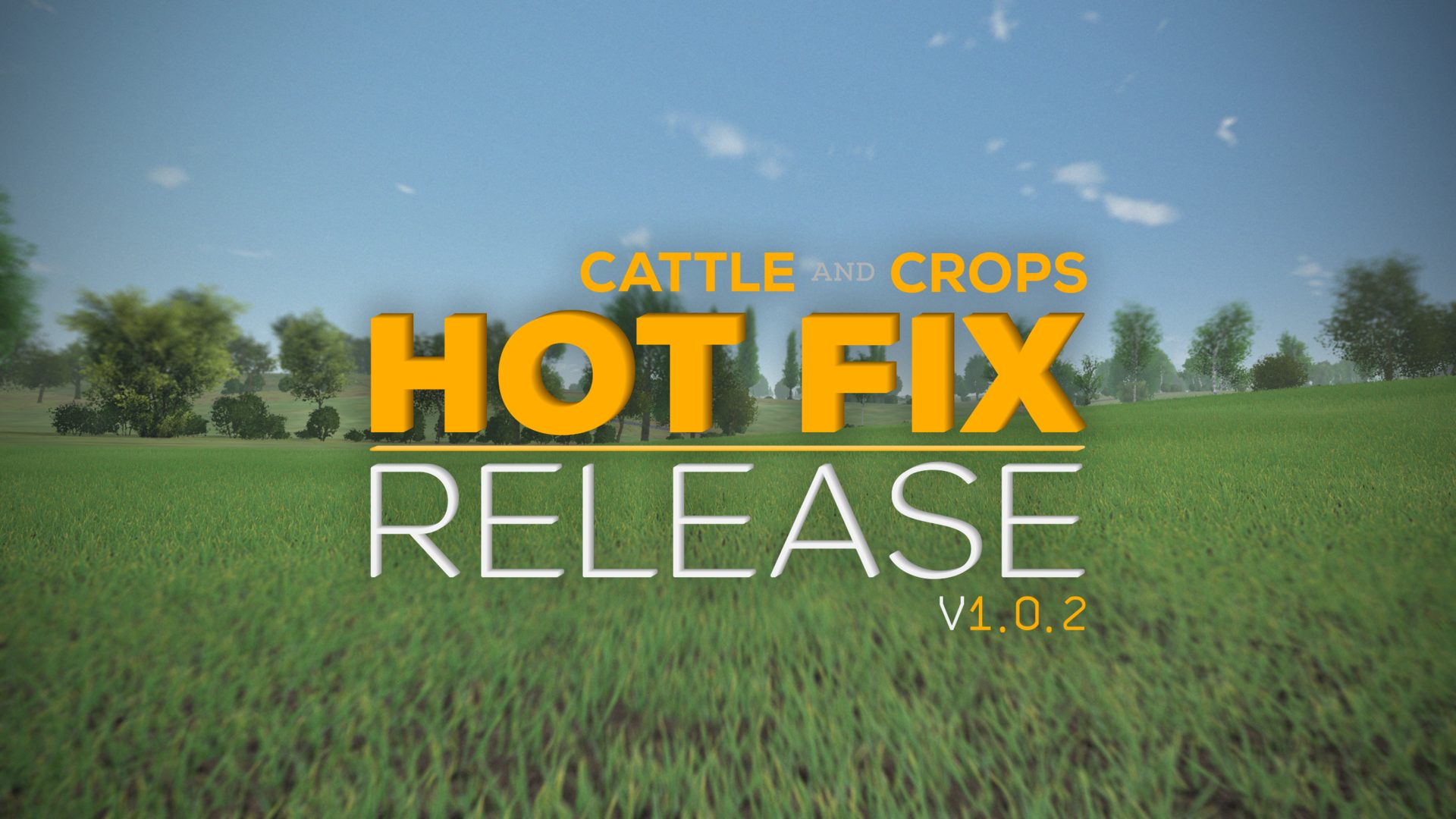 The first week after the release is behind us. Thanks to all of you who've supported us and thanks to everyone who enjoys playing Cattle and Crops. We hope that you like what we have done and have collected your feedback. So today we're releasing a hotfix update that fixes some bugs and crashes as well as includes a few optimizations.
Regarding the selling prices: we have increased the selling prices of grain using the difficulty level price factors, and at the same time we have lowered the animal selling prices a bit (for values see the changelog). That way the profit gap has become much narrower and it is much more worth it to cultivate and harvest grain. In our calculations, the new values can be used very well.
In addition we have generally repaired all selling price calculations in connection with the selling price difficulty.
Another change is that bought grain, seeds or fertilizer can only be resold at a significant loss (90% deduction). This value is mixed with self-produced crops – a sale with e.g. 50% purchased and 50% harvested grain will result in a 45% deduction.
Similarly, young (low weight) animals have a very low resale value. This increases exponentially the more they weigh, so that only selling nearly or fully grown animals results in a profit.
These deductions are independent of the difficulty level.
As always, you can find the complete overview in the changelog.
Changelog
BUG FIX
Textures are only set to Ultra for a new profile if 6 GB VRAM is detected. All in all Ultra can consume more than 4.5 GB VRAM in the Albergtal with many machines.
BUG FIX
Steam: Achievements are displayed in the Steam language
BUG FIX
Difficulty multiplier is calculated correctly when changing the difficulty level
BUG FIX
Completion window when exiting a scenario is now displayed centered
BUG FIX
If you tow a driver that is not controlled by the AI, the harvester will no longer ignore the driver
BUG FIX
Fieldgrass: Age calculation fixed while fast forwarding
BUG FIX
Field wetness in the tutorial "Forage maize chaser bin" reduced
BUG FIX
Animals no longer get stuck on edges or curbsides
BUG FIX
Harbor trader: driving through the unload area with incompatible FillTypes does not lead to a crash anymore
BUG FIX
Claas Tucano: Front wheels no longer drag on the chassis when Vario is attached
BUG FIX
[EDITOR] Fruits are displayed where they should be
BUG FIX
[EDITOR] Calculate Vegetation Grid Positions no longer causes errors
BUG FIX
EDITOR] You can paint grass outside the fields in the editor again
BUG FIX
Grass no longer sticks out on the road in the Albergtal in as many places as the vehicle trader (there will be more changes)
BUG FIX
It no longer doesn't rain through the roof at the harbor trader load and unload area
BUG FIX
Trees without leaves are also displayed in the distance without leaves
BUG FIX
At the Physics level "Realistic", the vehicles no longer slip when the handbrake is applied
BUG FIX
Farm Seed pallets: FillType does not suddenly change anymore if a wrong vehicle had been selected before
BUG FIX
Tutorial "Animal Feeding" can be completed if you fill the feeding troughs in any order
BUG FIX
Animals no longer spawn outside of the barns
BUG FIX
Drive-thru silos can now be filled with mixed cargo, e.g. field grass silage and field grass hay
BUG FIX
Tutorial "Helper Transport": Task can only be saved at the end of the tutorial
BUG FIX
Rebuy setting in tasks are now loaded correctly from the save game
BUG FIX
Minimap no longer crashes when no navigation path can be created
BUG FIX
Scenarios 1 & 5: Stuck at "Drive to field" fixed
BUG FIX
Scenario 2: The "Freeze Bales" option is now activated for bale loading during the scenario
BUG FIX
Szenario 4: Crash Fix when loading a save game
BUG FIX
Crash fixed when attaching the Lacotec LH II
CHANGE
Credits: Supporters grouped by badge
CHANGE
Notification message when a helper gets stuck in traffic
CHANGE
Photo mode added to graphics options, which allows to increase the settings to values outside of the recommended ranges
CHANGE
The beacon lights now have discreet light shafts again
CHANGE
Sale prices: difficulty price factor adjusted:
Animals (easy): 1.6
Animals (medium): 1.3
Animals (hard): 1.0
Fruits (easy): 8.0
Fruits (medium): 5.5
Fruits (hard): 3.0
CHANGE
Young animals (with lower weights) are now worth much less per kilogram than older/heavier ones
CHANGE
Finance menu: tank and trader overview cleaned up
Authors:
cattle and crops