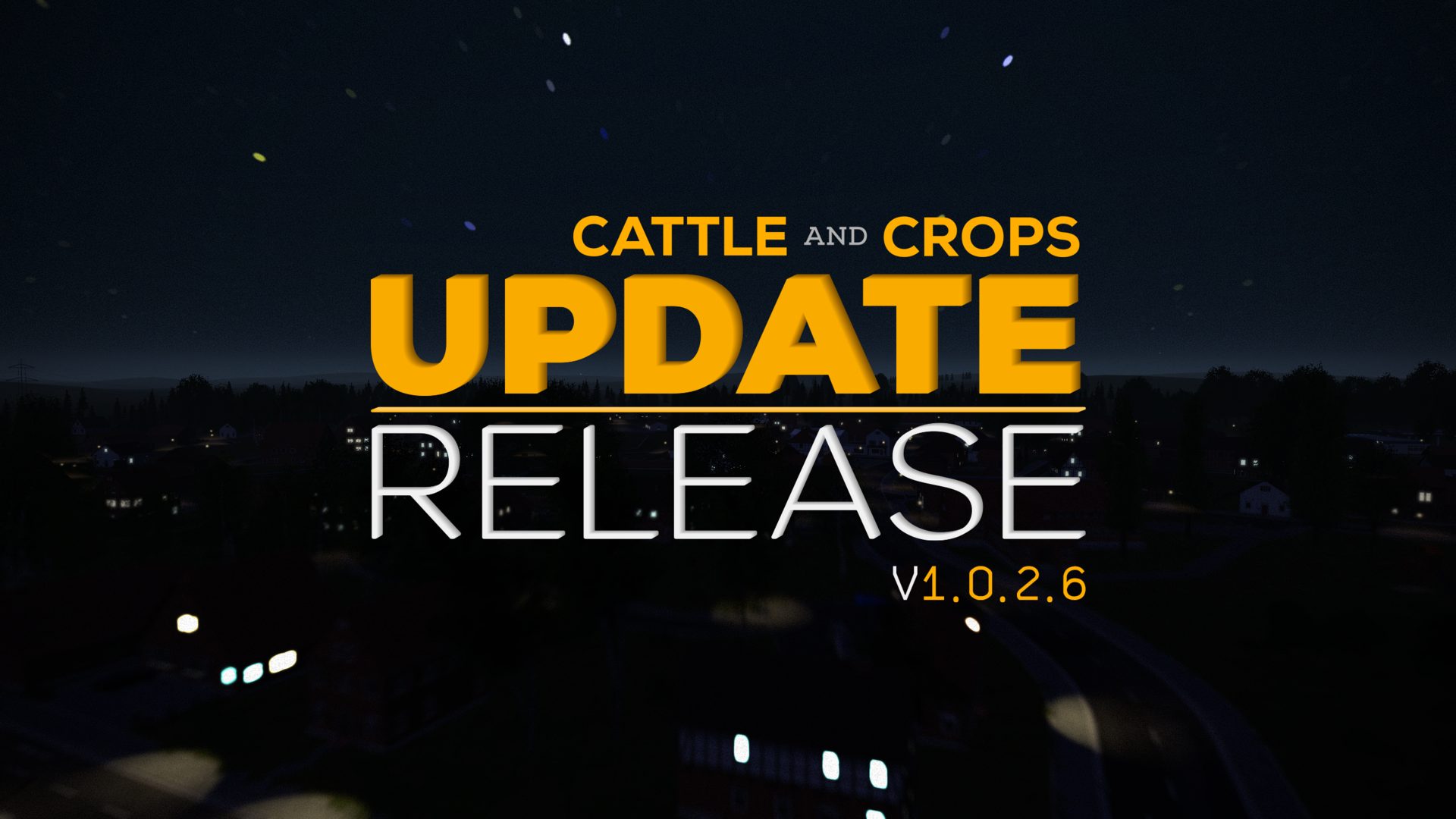 This update brings – besides many smaller fixes and improvements – a further reworking of the sales prices and revenues.
First, after your feedback, a fourth sales difficulty level was added: realistic. In this level all sales prices and proceeds have, well, completely realistic values.
In addition, the bale prices have been significantly reduced and have been given their own difficulty multipliers (easy: 3 / medium: 2.25 / difficult: 1.5 / real: 1). Field grass and field grass silage bales (hay not included) are now worth almost nothing.
The biogas plant has received an extended revision and now uses much more realistic data as a basis for the revenue calculation. On the one hand, the ensiled fruit types now produce more real (i.e. lower) biogas quantities, on the other hand, the prices for methane gas have been adjusted. The generated energy has been split into electrical and thermal energy, with different prices. One kWhel results in a base price of €0.143, one kWhth results in a base price of €0.03 (the prices are slightly higher during winter and slightly lower during summer). The BGP control display has been adjusted accordingly. In addition, the BGA has received its own price multiplier: (easy: 5 / medium: 3.5 / hard: 2 / realistic: 1). Note: there is now a fermentation period of 20 days, which means the money generated from the silage loaded into the bunker — resp. the generated methane gas — is only paid out after this period.
Together with the BGP and grain price changes, it's no longer lucrative to buy grain and unload it directly at the BGP.
A few calculation examples:
The BGA silos have a capacity of approx. 5,800 m³. This corresponds to approx. 33.7 ha of maize chaff. If you fill the silos completely over a season, you get approx. (minus personnel and machine costs):
Real: 55.200 €
Hard: 110.400 €
Medium: 193.200 €
Easy: 276.000 €
The same area planted with barley results in (threshed, i.e. with significantly less work and time required) approx.:
Real: 18.000 €
Hard: 54.100 €
Medium: 99.300 €
Easy: 144.400 €
As always, all changes can be found in the changelog.
Changelog
NEW
Additional sales price mode "Realistic", which offers completely realistic values
NEW
Vehicles can now be cleaned at the contractor
NEW
Claas Jaguar and Tucano have received unload chute/rear view cameras that can be activated in the cockpit displays.
BUG FIX
Analog devices in missions now show icons for both axis directions if only one axis direction is bound
BUG FIX
When grass grows back after a complete drying cycle and is then cut again, it is no longer immediately dry
BUG FIX
In the scenarios the memory consumption has been reduced when fast forwarding, this should also fix crashes and freezes of the game in those situations
BUG FIX
Display on Hammer MixKing repaired (digit size and position increased)
BUG FIX
Finance menu: better support for long dealer, tank and FillType names
BUG FIX
FillTypes that can't be sold at the harbor are no longer displayed in the finance menu
BUG FIX
Animals no longer spawn outside the boxes
BUG FIX
Tutorial "Field Guidance System II": Spelling fixes
BUG FIX
Vehicle recovery window: spelling fixes
BUG FIX
Claas Jaguar: when all-wheel drive is deactivated, the front axle is now correctly powered instead of the rear axle
BUG FIX
Biogas plant silos can be uncovered correctly again
BUG FIX
Missing textures of the Deutz tow pin hitch added
BUG FIX
Hammer TransferKing: reflection of the tires adjusted
BUG FIX
All tractors and harvesters (except Deutz 7250) received new animations for indicator/gear/direction levers. The protective rubbers no longer rotate to the wrong direction.
BUG FIX
Crash during fast forwarding with rented equipment or loaned employees fixed
CHANGE
Bale sales prices reduced, custom difficulty multipliers added
CHANGE
Biogas plant revenues strongly revised:
CHANGE
Methane gas: revenue divided into electrical and thermal energy, with an amount of €0,143 resp. €0,03 per kWh
CHANGE
Biogas yield of all fruit types reduced to real values
CHANGE
Trader icons are now displayed in the finance menu
CHANGE
Trader icons have received a uniform design
CHANGE
Traders in the finance menu are now sorted alphabetically
CHANGE
The weight-based sales price multiplier of the animals is now smoothly interpolated between the weight groups, so that there are no more steps
CHANGE
Claas front loader FL 100 rotates the arms to transport position when autopilot / tasks are used. An attached shovel or bale fork is also rotated to the top
CHANGE
The fee for selling animals via the menu is now based on the distance from the animal to trader
CHANGE
Cleaning vehicles takes longer, progress indicator added
CHANGE
Price fluctuations added for swath and chopped fruits
CHANGE
Start money amount of scenario 3 increased
CHANGE
Fruit reference texts now show correct units when the game uses imperial units
CHANGE
Tutorial "Thresh grain": Start position of the Vario trailer optimized
NOTE
Tucano-/Jaguar-Camera-Displays can get a wrong on-off-status when the engine is turned off/on too quickly
Authors:
cattlle and crops