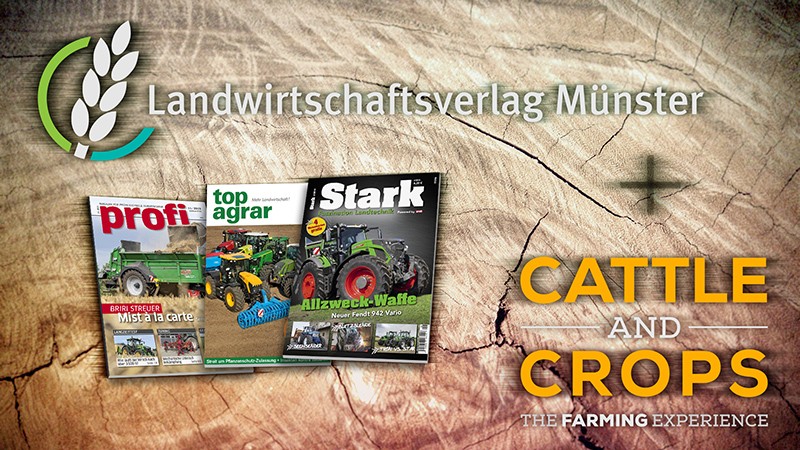 After long negotiations we can finally announce today the cooperation between Cattle and Crops and the Landwirtschaftsverlag (agricultural publishing house) based in Münster, Germany.
Landwirtschaftsverlag (LV) joins in as a strategic partner in Masterbrain Bytes and will support us in many areas as well as provide technical information necessary for a realistic simulation. With specialist magazines such as profi, top agrar, Stark and many more, LV is Europe's leading industrial publishing house.
Why are we doing this?
Very early on after the first release, we realized that communicating with you, the community, coordinating with manufacturers, researching real data, and marketing meant a lot of time spent that we needed to actively develop the game. Basically there were two possible ways for us:
Plan A: We take care of all of the above points alone. Plan B: We look for support to keep control of the project in order to continue to realize our vision of an agricultural simulation.
Due to the steadily increasing organizational effort for the Steam release, we finally opted for Plan B. This was the beginning of a time-consuming search process for a partner that lasted several months. In conjunction with the regular development of the milestones, the search contributed to the delays of the updates.
Effect on the project
In short, Landwirtschaftsverlag helps us in an advisory capacity in organisational matters, in relation to development, with a great deal of expertise and a unique access to the industry.
With its many years of versatile experience both in print and online sectors, LV will actively support us in various areas such as marketing.
Since Landwirtschaftsverlag is broadly positioned in a multitude of sectors such as vehicles, equipment (profi, traktorpool), soil and plants (top agrar) as well as pigs and cattle (SUS, Elite, vetconsult), we can profit from the expertise in almost all areas of the game and enhance it with data, systems, processes and optimizations. A first result of the cooperation can already be seen in the plant growth and fertilization system presented in v0.6, which we developed in cooperation with the LV editorial team.
TL;DR
Together with Landwirtschaftsverlag and especially you, Cattle and Crops can continue to grow towards a more realistic simulation in the future. Thank you for your loyalty and support!
Authors:
Cattle and crops